74ZE - SHIRT
Proposed Design
74ze T-Shirt Next (Proposed)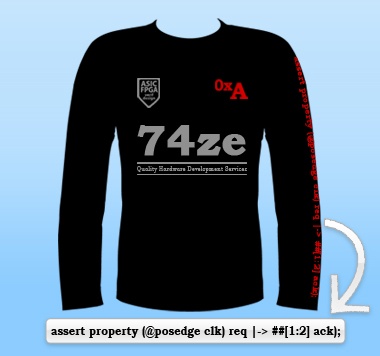 Theme:
The proposed theme for our next shirt is Assertions. System Verilog Assertions. We feel that the uptake in assertion usage is a bit slow and don't want our colleagues hiding the fact that they are at one of the forefronts of modern verification. As the shirts have not been made yet, we'd like your feedback. (See the comment section below.)
As with our last shirt, the nameplate on the back may be blank or customized with your name in the Cyrillic alphabet
While the design may change, the specs for the shirt will not and are as follows.
Manufacturer: Gildan
Product ID#: G2400
6.1-ounce, 100% cotton
Double-needle collar and hem
Neck and shoulder tape

Please add a comment.
What are your thoughts on our design? Material? Style? Concept as a marketing scheme?
What suggestions for improvements do you have?
This design is merely a proposal. In particular, we are looking for a more interesting (and slightly shorter) assertion for the sleeve.
Have you got any ideas?
You name is not required, but please don't be shy.

On Mon January 17, 2011, 22:52:44
Blake Haak
Shirt/Website
---
On Fri January 14, 2011, 10:24:36
Anonymous
Re: Comments
---



Copyright © 74ze Engineering, Inc. All rights reserved.